From Bruce Feb. 12, 2021
Happy New Year! Well I have been very deficient on postings. Been busy! I plan to change that!
Some bad news:
COVID, and no Americans last summer in Wabakimi!
Bert and Brenda have (mostly) retired! Oh no! 21 years of fantastic managing. They have built a new solar powered house off grid, and are enjoying a well deserved retirement. But they still are helpful when we call them for advice and say "Help!"
It has been -30 to -46 in Armstrong for a week now, and forecast to be so for another week. Yikes. (But still has not matched the -59 I enjoyed twice when I lived solo at Shawanabis from 1976-78…). But now I have become a bit of a winter wimp… and will wait for at least -10 before using the new Skandic SWT to go after walleyes and specks at my secret lakes.
Our hearts go out to America after the horrendous attack on the Capitol and democracy.
Now how about some good news!
Canadians discovered wilderness and Wabakimi in droves in 2020! We were quite busy!
Our new "Brenda " is named Lindsey David, and cracks the whip just like Brenda did. Is learning like a house afire, manages the bookings, is a pilot (floatplane endorsement this summer?). You can contact her at Lindsey@Wabakimi.com
Our new "Bert" is Ryan Brady. Ryan had his own outpost biz for a decade (Northern Outposts), and is our new part-time outpost manager. Can build or fix anything. Strong like moose. And is also a pilot and flies the new Cessna 175 to service the outposts.
Our "Person Friday" will be back. Vince Fiorito cooks, shuttles, advises, is super helpful and smart (he will whip your butts at Chess!).
Spouse and partner Margaret is back at the helm as the other "whip-cracker" (I need at least 2…). Makes the best scrambled eggs on Earth, and will whip your butt at Scrabble! Margaret@Wabakimi.com
The new (well 2 years… time "flies") C-175 has been souped up to 210 HP, and fitted with a STOL kit ( Short Takeoff And Landing) and is super useful for checking on and working on outposts. We even get to go fishing once in a while!
We also carry our guests in a Beaver (2-4 people + canoe) and Turbo Otter (up to 8 people and 2 canoes). About 1/3 of our canoeing clients now are truck in/out. 1/3 are fly-in and paddle out for truck pickup. And 1/3 are fly in and out.
We now have several new outposts. The Allanwater, Shawanabis and Windfall you know and love have been "spruced" up (and I "pine" to fly to them when the ice goes out. May 10? Betting pool anyone?) The new ones (all fly-in) are:
1. Burntrock Lake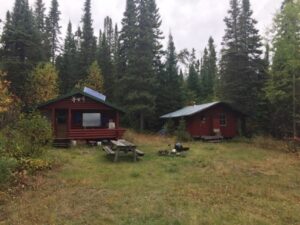 Burntrock Lake: has not been fished for over a decade! 2 cabins, capacity 8 (maybe 10 if you are good friends…). The BEST walleye fishing in Wabakimi. Period. Huge northerns. Lots of Woodland Caribou prancing and napping on the beaches. New Shower building ( nicer than my house!). Electric fridge, freezer, lights powered by 3500 watts of solar. Needed LOTS of work… which we have done!
2. Redman Lake
Redman Lake (5 miles east of Burntrock). VERY rustic cabin for up to 4 (safe and warm and comfy, but will need some TLC soon)… BUT: fantastic walleye fishing ( and BIG), large northerns, spectacular sand beaches. Where Burntrock nearby is caribou habitat, Redman has more moose than mosquitoes! (well slight exaggeration…). All of our moose hunters for 4 years have gotten their moose on day 1… sometimes 1 hour after dawn!
3. Kawaweogama Lake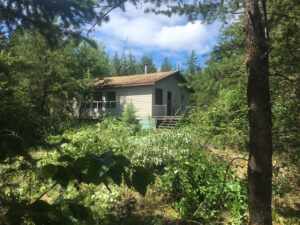 Kawaweogama Lake (maybe just say Kawa?). Near Allanwater. Means "big round lake with lots of rocks!" (and walleyes and northerns!) in Ojibway. Modern 10 person camp (comfy for 8) on a spectacular point on the west side facing the morning sun near where the Brightsand River goes up to Sunray Lake (Lots of moose!). We have it almost ready to go for Spring. Ryan and I will be flying in on skis in March and early April to put on the final touches.
4. Morden Lake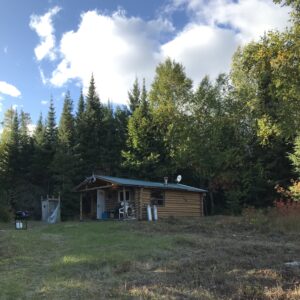 We not only got Ryan! We also got his Morden Lake Outpost. Comfy for 4, but has 5 beds. Charming. Incredible walleye fishing! Tons of Moose for Canadians with their own tags for WMU 17. Portage to nearby 6 mile long lake with boat and more walleyes. Lots of sand beaches for swimming. Has not been fished for over a decade!
So, while waiting for warmer ice fishing and Spring, Bruce is answering calls and emails. Coffee before noon, and sipping the odd Sleeping Giant "Mister Canoehead" beer in the evening. A BIG part of my job is advice in matching up canoeists with the right canoe routes. I made most of those portages 40 years ago (or reopened ancient Indigenous routes). Family and staff and friends (and sometimes previous clients!) and I go out annually to re-clear some of them. First task this Spring is a Palisade River expedition to clean up some blowdowns on the portages on this, one of the best remote and wild and spectacular fly-in routes. I sure am hoping the border opens this June! I bet it will, but likely you will need proof of vaccination and/or a recent COVID swab. What better place to socially distance than Wabakimi?!  Far more likely to see a caribou than a fellow human!  Contact me anytime (well, not between 10 pm and 7 am, please…) at 807-708-4080 or Bruce@Wabakimi.com . Be well!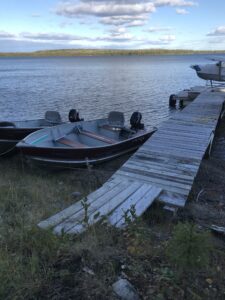 Morden Lake