Canoes
Rentals
We rent the best canoes available. Feel free to bring your own!  But if you have not yet paddled and carried a 40 or 50 lb Kevlar, you don't know how canoe tripping can be made ever so much less painful.
Canoes for Sale
We sell off our rental canoes regularly, after checking them carefully for damage or excessive wear. We have two unique practices at Wabakimi Outfitters.
If you fall in love with the canoe you rented (or a different one for that matter), we will apply half of your rental fee toward buying it for an already very fair price, or

If you buy a used or new canoe from us, and decide after your trip that you want to return it or change to a different one… no problem! We will return your purchase price less a fair rental fee!
New Clipper Canoes for Sale
Clipper Tripper 17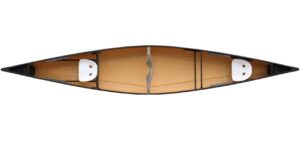 '6″ Ultralight 
Versatile, fast, stable, and comfortable. The Tripper was first introduced in the spring of 1983. The Tripper's ample capacity will carry a family with kids or enough gear for an extended tandem wilderness trip. The Tripper's shallow arch hull provides good initial stability. Gently flared sides and relatively lowslung seats result in great secondary stability. Our specially molded seats are the most comfortable available.
Dimensions & Weight

Length: 17′ 6″
Beam: 35″  |  33″ (@ 4″Waterline)
Bow Height: 21″
Stern Height: 18″
Center Height: 15″
Ultralight: 54 lbs
Clipper Tripper S 16'6″ Ultralight (Flat Yoke Installed)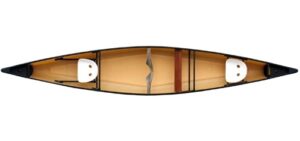 The Tripper 'S' is 16'6″ with a four-inch waterline width of 31.5″ (versus 33″ in the Tripper). The canoe is asymmetrical with noticeable tumblehome that starts in front of the yoke and increases significantly towards the stern thwart. This results in a maximum beam at the gunnel of 32″. The Tripper 'S' is a delight to paddle solo yet it still provides sufficient volume for tandem wilderness trips. It has slightly more rocker for its overall length than the Tripper, which makes it more maneuverable and easier to control when paddled solo.
Dimensions & Weight

Length: 16′ 6″
Beam: 32″  |  31.5″ (@ 4″Waterline)
Bow Height: 19″
Stern Height: 17″
Center Height: 14″
Ultralight: 51 lbs
Clipper Sea Clipper 18'6″ Ultralight (3 seats!)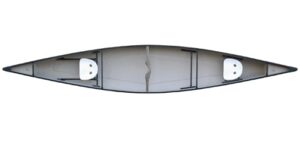 The Sea Clipper was designed exclusively for Clipper Canoes by Eugene Jensen. Wilderness tripping and ocean canoeing were the driving force behind this design. The length and freeboard of the Sea Clipper make it ideal for large lakes and ocean touring. The bow helps keep the Sea Clipper tracking straight while the rocker and full stern provide control. The speed that has been built into the Sea Clipper provides an added element of safety for when conditions get rough and you need to get to shore quickly. With a load capacity of 1,000+ lbs, it will carry all you need for extended trips into the wilderness, or allow you to bring the whole family for an afternoon of canoeing.
Dimensions & Weight

Length: 18′ 6″
Beam: 36″  |  32″ (@ 4″Waterline)
Bow Height: 23″
Stern Height: 21″
Center Height: 15″
Ultralight: 56 lb
Clipper Yukon 16'8″ FG Foam Core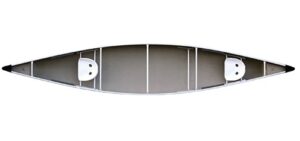 The appeal of the Yukon is based on its design, low cost and excellent value. The Yukon is a versatile canoe that is built to last and has proven itself in rental use and adventure racing across Canada. This canoe gives you a comfortable feeling, both in its roominess and stability. The Yukon was designed by James van Nostrand – one of the most prominent and reputable canoe designers in Canada.
The Yukon has the capacity to be a good family canoe and is also suited for wilderness tripping. It glides nicely, tracks well and resists being blown around in the wind. In moving water, it is predictable and quick to maneuver. The Yukon offers exceptional performance and will provide years of maintenance-free paddling at an affordable price.
Dimensions & Weight

Length: 16′ 8″
Beam: 36″  |  34″ (@ 4″Waterline)
Bow Height: 20″
Stern Height: 20″
Center Height: 14″
Fiberglass w/Foam Core: 62 lbs
Almost New Clipper Canoes for Sale
Clipper Prospector 14′ Ultralight (Contoured Yoke w/ Remove Taps)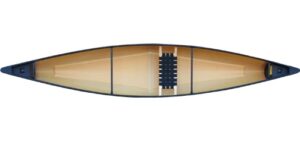 This solo 14′, designed by James van Nostrand, is one of a series of traditional-type Prospector canoes offered by Western Canoeing & Kayaking. All three Clipper Prospector models share the same characteristics of classic design, grace on the water, and maneuverability.
The Prospector 14′ is a solo canoe that is responsive and seaworthy in grade II and III whitewater. The classic Prospector design is symmetrical with a shallow arch hull. It has 1 ½" of rocker and the high chine provides a smooth and dry ride through rough water.
Dimensions & Weight

Length: 14′
Beam: 29″  |  29″ (@ 4″Waterline)
Bow Height: 21″
Stern Height: 21″
Center Height: 15″
Ultralight: 40 lbs
Clipper Prospector 17′ Ultralight (Wilderness Lash System Installed)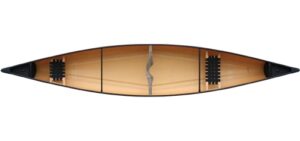 The Prospector 17 has become the first choice of many experienced paddlers. It is ideally suited for rough water, large loads, and its forgiving nature makes it suitable for novice paddlers. As with any expedition canoe, it has to be quick to maneuver and easy to paddle or it will be left behind on the next trip. The Prospector 17 excels in both areas. The 17′ Prospector is in its element when on a wilderness trip – loaded to the gunnels and beyond. When loaded, it maintains its speed and becomes even more stable. Although this canoe is praised as a tripping canoe, it also makes a good family canoe because of its large capacity.
Dimensions & Weight

Length: 17′ 2″
Beam: 36″  |  34″ (@ 4″Waterline)
Bow Height: 21″
Stern Height: 21″
Center Height: 15″
Ultralight: 55 lbs
Used canoes and kayaks also available: Bell, Wenonah, Souris River, WW, Old Town, Necky, Perception, York River, and Chestnut. Click for details.
Special rate for a night at the Wabakimi Lodge with any canoe purchased.
For more information and pricing, contact Bruce at 807-708-4080 or Email.